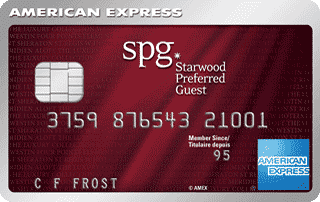 American Express SPG Card
Best offer available via Great Canadian Rebates
Signup bonus: 50,000 Marriott points
Minimum spending: $1,500 in the first three months
Annual fee:

$120
Offset by $30 cash back from Great Canadian Rebates
Nets to $90 for the first year

Earning rate:

5 Marriott points per dollar spent at Marriott hotels
2 Marriott points per dollar spent on all other purchases

Perks & benefits: Silver Elite status, anniversary free night award
Insurance: Good

The Bonuses
After the August 2018 merger of SPG and Marriott Rewards, the American Express SPG Card offers 50,000 points in the Marriott loyalty program as a signup bonus upon spending $1,500 in the first three months. The card has an annual fee of $120 which, to my knowledge, has never come with a first year fee waiver.
However, you can apply via Great Canadian Rebates in order to capture $30 in cash back, meaning you're only out-of-pocket $90 in exchange for the 50,000 points.
You can also apply via a referral link (here's mine if you'd like to support the blog), but you'd be faced with a higher spending requirement of $3,000 rather than $1,500.
Let's face it: annual fees suck, big time. But if you do the math, you'll see that the signup bonus more than offsets your outlay. To give you an idea of what the bonus can get you:
Redeem 50,000 Marriott points for a free night at a Category 6 hotel (retail cost: $300–400)

Redeem 50,000 Marriott points for four free nights at a Category 2 hotel (retail cost: $400–500)

Earn 10,000 more Marriott points and transfer 60,000 points to any of 40 airline transfer partners and redeem for flights (retail cost: $500+)
Those are just a few examples that come to mind, and you could also mix and match the options that best suit your needs. The point is, the ultimate value of the Marriott program derives from its flexibility, and as a result of that, it's almost difficult not to get multiple times' return on your $120 annual fee when signing up for this card.
The SPG cards also offer unique benefits to make your stays at SPG/Marriott hotels more memorable. Cardholders are rewarded with automatic Silver Elite status within the program, and can also enjoy a free night certificate worth up to 35,000 points on each card anniversary date.
Finally, supplementary cards are not subject to an annual fee; as with all Amex cards, you're allowed up to nine supplementary cards per card account.

Earning Rewards
In terms of the return on everyday spending, you'll earn 5 Marriott points per dollar spent at all Marriott hotels, including room charges, food and beverages, and incidentals. You'll earn 2 Marriott points per dollar spent on all other purchases.
While this card used to be one of the most powerful cards in Canada for daily spending, nowadays the value proposition has decreased. Earning 2 Marriott points on your purchases is fine if you're primarily looking to use your Marriott points on hotel stays; however, if you're interested in transferring to airlines like Aeroplan or Alaska Mileage Plan, then it'd be a better idea to put the charges on the Amex Platinum or the MBNA Alaska.

Insurance Coverage
The insurance provided by the SPG Card is decently far-reaching, and includes coverage such as:
Travel accident insurance, up to $500,000, for you, your spouse, and any dependent children under 23

Baggage delay insurance, up to $1,000 (aggregate total with Flight Delay insurance), for items purchased within four days when your baggage is delayed

Car rental theft and damage insurance, which helps you save the daily insurance fee that most car rental companies charge
There's a few notable omissions from the list of covered items, though. For example, there's no emergency medical insurance, which many travellers view as a necessity.

Apply Now
The American Express SPG Card is quite easy to get approved for, with no minimum income requirements.
Since there's currently no referral program on this card, the best way to apply is via Great Canadian Rebates, where you can benefit from $30 in cash back:

Any questions? Contact me.